pageok
pageok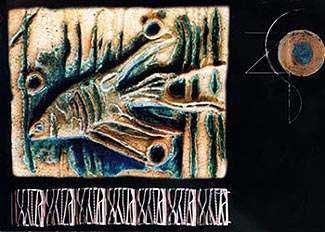 BRIDGING TRADITIONS:
Contemporary Jewelry and Ceramics from Poland
Work from the Jacek Malczewski School
Friends of the Torpedo Factory Art Center, in conjunction with the Embassy of Poland under the gracious patronage of His Excellency Przemyslaw Grudzinski, will host Bridging Traditions: Fine Contemporary Jewelry and Ceramics from Poland from June 20 through August 3. This exhibition presents the work of students from the Jacek Malczewski School of Fine Arts in Czestochowa, Poland. The exhibition is free of charge and open to the public. A reception for the artists will be held on Thursday, July 10, from 6-8 PM. The ambassador and several of the artists are expected to be in attendance at the reception.

The works in Bridging Traditions highlight techniques of metalworking and ceramics that have been passed down through many generations of Polish artisans. The embassy's Cultural Minister Anna Niewiadomska states that, "The Target Gallery show will expose Poland's most talented young artisans to an entirely new, urban audience and will share our age-old traditions with the American public." Each year, the Friends of the Torpedo Factory Art Center work with an embassy to showcase work by artists who otherwise may not be able to exhibit their work in the United States. Several students will travel to the United States for the exhibition and to visit the museums and monuments in Washington, D.C.

The Friends is a 501(c) 3 charitable organization created to promote, enhance, and preserve the unique aspects of the Torpedo Factory Art Center and its value to the community. Target Gallery is the national exhibit space of the Torpedo Factory Art Center, displaying artwork in all media from artists across the United States and abroad. Located on the ground floor of the Torpedo Factory Art Center, Target is open to the public Wednesday through Sunday, 12 noon to 5 PM and other times by appointment.