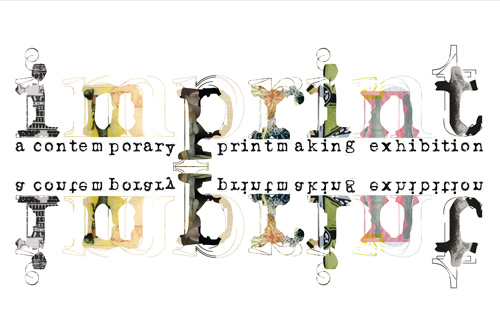 Imprint is a juried exhibition that examines the trends in contemporary printmaking. Our juror, Jane Haslem of Jane Haslem Gallery, chose 41 pieces by 37 artists from across the country. The work includes prints that incorporate traditional and experimental printmaking techniques, a few of which are three-dimensional prints/sculptural pieces as well.

Following the gallery talk at 7pm with juror, Jane Haslem, guests are invited to go to Printmakers' Inc. Studio 325 for a printmaking demonstration from 7:30-8pm.

Participating Artists:
Betsy Anderson, VA • Samantha Mosby Belcher, WV • Jenny Zoe Casey, FL • Elizabeth Dove, MT • Julianne Gadoury, NY • Lari R. Gibbons, TX • Caryl C. Gordon, TX • Scott Groeniger, HI • Allison Long Hardy, VA • Ellie Honl, WI • Karen Hubacher, VA • Laura Huff, MD • Diane Kaiser, MA • Leslie C. Kerby, NY • Harold Lohner, NY • Sarah Marshall, AL • Susan Martin, NC • Kristen Martincic, IN • Jonathan McFadden, WI Erin L. McMahon, NY • Lauren Miko, VA • Rita Noe, IA • Mary D. Ott Anna Marie Ottaviano, TX • Nancy Scott Patton, CA • Seth Roby, NM Dora Lisa Rosenbaum, IN • Meredith Setser, IN • David Skibiak, VA Rhonda Jan Smith, MD • Kathleen Stafford, VA • Zach Stensen, IA Stephanie Tsong, VA • Crystal Wagner, AL

The Target Gallery, national exhibition space of the Torpedo Factory Art Center, is located on the waterfront in Old Town Alexandria, VA.