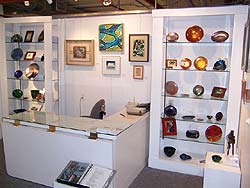 Gallery Hours:
10am - 6pm Daily
10am - 9pm Thursdays

The Enamelists Gallery is a cooperative of artists who practice the art of true enamel: glass fired onto metal. Using both traditional techniques such as cloisonné, and many exciting modern methods, we create enamel paintings, sculpture, jewelry, bowls, and boxes.
The Enamelists Gallery is located in Studio 28 on the first floor of the Torpedo Factory and can be reached at 703.836.1561.
August 6 - September 2: "Hot Color -- For an enamelist, even the cool colors start off hot. Hot, cool and in-between. Every color is in the August show."
September 4 - October 6: "All Fired Up: Enthusiasm, exuberance and energy characterize the work this month by Gallery Artists."