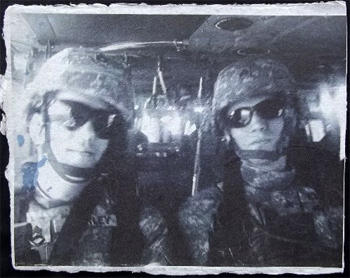 About the Workshop
This is a free workshop designed as a collaborative effort between Peace Paper and the Torpedo Factory Art Center's Target Gallery and our Art in Public Spaces Program.

The workshop with be led Peace Paper Directors Drew Matott and Margaret Mahan, as well as Art Therapist Arielle Matthews.Participants will be comprised of Torpedo Factory Artist and survivors of trauma and veterans in the Washington, D.C. area.

Through making paper from their own clothing and prints from their own images, workshop participants will utilize both traditional and contemporary applications of the paper arts as a means to tell their individual stories. The workshop will culminate with an exhibit of handmade paper, pulp paintings, pulp prints and broadsides made throughout the workshop.

Workshop Schedule: July 7th - 11th, 10am to 4pm
Saturday, July 7th: Introduction to handmade paper

Sunday, July 8th: Paper production day using your own fiber/clothing

Monday, July 9th: Creative sheet forming - add color to wet paper pulp and use it to create compositions.

Tuesday and Wednesday, July 10th-11th: Book-binding and screen printing workshop.


This is a free workshop, but space is very limited. For More information about registering for the workshop, please email Allison Nance at anance@torpedofactory.org


About Peace Paper
Recognizing the therapeutic benefits of the medium, Peace Paper works to make hand papermaking available to the world in numerous ways. Peace Paper works with survivors of trauma and uses a portable paper making studio and fibers that hold significance (such as articles of clothing that one might have worn during chemo treatment, or part of a military uniform, etc) to create hand made paper. Their goal is to bring paper to the people so that they may transform their unique fibers into works of art; expressing their stories through the pulp while using the medium of papermaking to enrich their artistic voices.
Click here to learn more about Peace Paper.

About the Image to the left
"En route..." by Blake McIntyre - laser print & fixer on handmade paper, 2011
Blake printed images of his US Army service on paper made from the uniforms of Texas State Veterans.